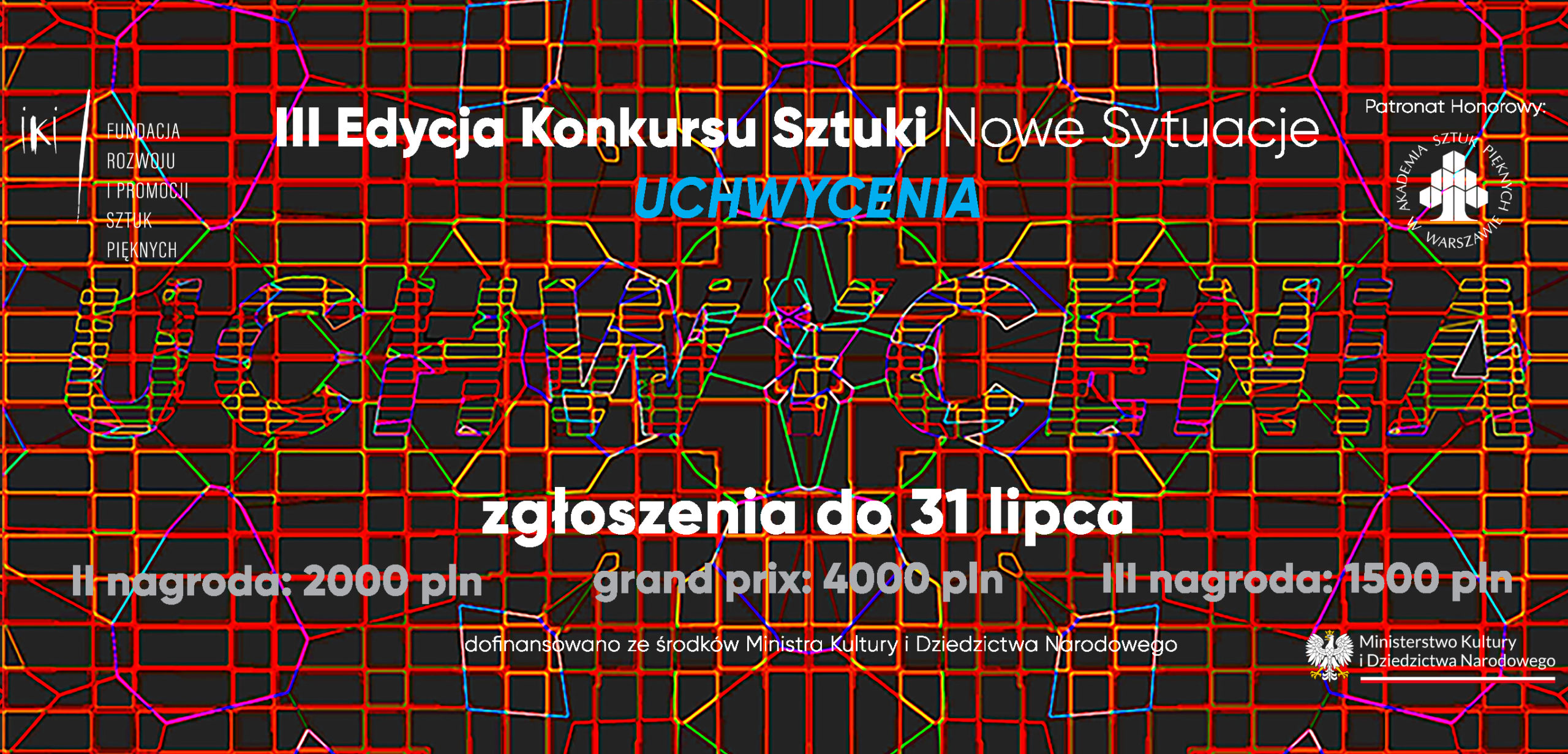 3rd Art Competition New Situations in Warsaw
We are pleased to announce that the 3rd National New Situations Art Competition, Uchwycenia, organized by the iki Foundation for the Fundację Rozwoju i Promocji Sztuk Pięknych iki, is about to start.
The competition is addressed to students of the 4th and 5th year and graduates of art faculties of higher education institutions who are under 45 years of age.
We are waiting for your applications from now until July 31, 2023.
The competition task is to create a visual work in any technique (painting, graphics, sculpture, photography, video, installation, mixed and own techniques, as well as intermedia and multimedia projects). The formula of participation, open to various media, is limited only to this year's theme of UNIESIENIA.
"It's great to keep your soul on the tip of your tongue, ready to go…"
Seneca
In Book VI of Meditations, Marcus Aurelius wrote:
"Look deep into things. And let no matter proper quality or value escape your attention" and further "The object whose image (phantasia) appears must be defined and described in consciousness so that he can be seen separately, as he is in essence, naked, in its entirety and from all sides, and to be able to name it, naming at the same time the elements, of which it is composed and into which it will decompose. For nothing makes the soul so great as to be able to evaluate, by this method and truth, every object with which we come into contact in life, and to see it always in such a way as to be able to estimate at the same time what benefit it brings to the universe… "
The crisis of values, the lack of authorities, the ambivalence of concepts, information noise are the concepts of the present day … Through art we always look for the truth, we find new concepts, new words, new horizons, new views and grasps …
Let your art today become a conscious capture of what is real and dressing it in a specific form and color. Let it be your new word in the chaos of the day.
Each participant can submit up to 3 works corresponding to the theme of this year's edition.
All awarded works will be presented during the vernissage and at the exhibition in the Gallery in Warsaw. The winners will receive a cash prize funded by the Fundację Rozwoju i Promocji Sztuk Pięknych iki.
The details of the Contest are included in the Statute, which can be downloaded together with the Application Form below. More information can be obtained by e-mail: fundacja.iki.konkurs@gmail.com.
We encourage you to participate and follow the news on our Facebook and Instagram @fundacjaiki.