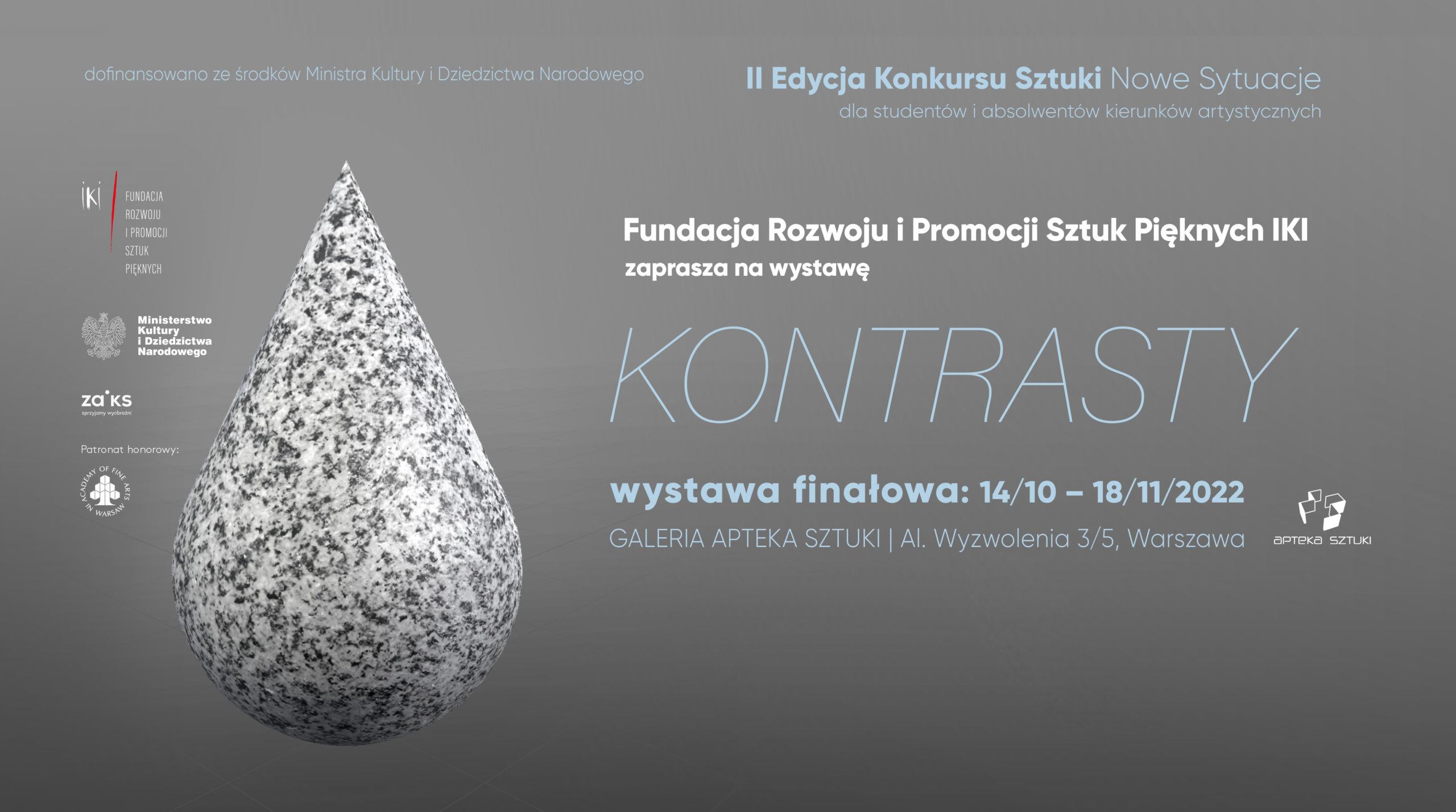 Announcement of the results and invitation to the exhibition 2nd National Competition in the New Situations series!
The competition was aimed at students and graduates of universities and art faculties up to 45 years of age.
The subject of the competition were works in the field of visual arts (painting, graphics, sculpture, photography, video, installation, object, mixed and own techniques, as well as intermedia and multimedia projects) related to the topic of this year's edition of Kontrasty.
On the basis of electronic submissions, the jury qualified forty-seven works by forty-three authors for the second stage of the competition, and then selected the winners and distinguished ones.
On October 14, 2022 at 6.30 p.m., during the opening of the exhibition, the results of the competition were announced and the following awards were presented:
Grand Prix – 3000 PLN
Zuzanna Śmigielska Uncharted People (Władysławowo), mixed media, 120×120
For the fleeting moment closed in an intriguing form of a multimedia image.
2nd Prize – 2000 PLN
Marcin Kozłowski Taca mutant, oil on canvas, 120×90
For a daring gesture and a witty reference to the history of art.
3rd Prize – 1500 PLN
Darya Hancharova  Impermanence 3 and Beyond 4, mezzotint, 42.5×32.5
For a mystery captured by a difficult and traditional graphic technique.
Additional prizes:
Additional prize of the Foundation – 1500 PLN
Miłosz Tomkowicz Buty Tyranów, object, 100×35, 2 pcs.
For an important and symbolic voice in the current situation of the war in Ukraine.
Honorary Distinction of the Rector of the Academy of Fine Arts in Warsaw
Dawid Andrzej Ławicki Przednówek II, woodcut, 70×100, 2021
Honorable Mention
Marcin Kosakowski fit in 03, video, 27 ", 2022
Barbara Niezrawska Untitled – diptych, mixed technique, 70×120 and 70×140, 2022
All qualified works are currently presented at the post-competition exhibition at the Apteka Sztuki Gallery in Warsaw, Al. Wyzwolenia 3/5 from November 18, 2022.
We invite you and encourage everyone to see the exhibition!